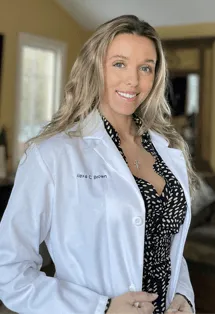 Dental Implants / Family & Cosmetic Dentist
"Our philosophy is treating the person and not just the teeth. Our office is where smiles are create!"
Dr. Alexa C Brown received her Bachelor of Science in Biology from Ramapo College of New Jersey, and earned her Doctor of Dental Medicine, DMD from Augusta University, Dental College of Georgia. She continued with her dental educationina Periodon1cs Residency at Rutgers School of Dental Medicine, Dr. Brown is an member of the New Jersey Dental Association, American Dental Association, and the Academy of General Dentistry, American Academy of Sleep Medicine, American academy of implant dentistry, all of which help her stay up to date in the practice of dentistry.Dr. Brown aims to connect with and understand her patient's individual needs, thus enhancing her ability to provide personalized and comprehensive care in a relaxing environment. Dr. Brown enjoys spending time with her family and friends, hiking, snow boarding, traveling and being outdoors, when outside of the office.