My Blog
Posts for tag: nutrition
By NJ Dental Team Center
March 12, 2019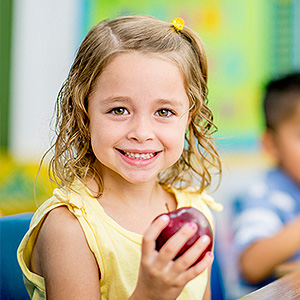 Besides daily hygiene and regular dental visits, the best thing you can do for your kids' dental health is to see that they're eating a nutritious diet. And not just at mealtime—healthy snacking also promotes healthy teeth and gums.
Healthy snack foods are quite similar to their counterparts at mealtime: fresh fruits and vegetables, whole grains and low-fat dairy. At the same time, you should avoid providing processed snacks high in sugar, salt, unhealthy fats and calories.
Managing snack choices at home is usually a simple matter of discipline and follow-through. When they're at school, however, it's a bit trickier as they may encounter snacks sold on school grounds or offered by fellow students that don't meet your definition of a healthy food. Public schools follow nutrition guidelines from the U.S. Department of Agriculture (USDA) on snacks sold on school grounds, but many dentists don't believe the standard goes far enough to protect dental health.
So, what can you do to combat these less healthy snack choices your kids may encounter at school? For one thing, you can work with your child's school officials to exceed the USDA guidelines or turn off snack vending machines right before lunch to lessen kids' temptation to skip lunch.
You can also interact with your children to better manage their schooltime snacking. But rather than issue blanket commands about what they should snack on at school, help them instead understand the difference between nutritional foods and less nutritional ones, and why it's important to choose healthy snacks for their life and health.
Finally, don't send them to school empty-handed—pack along nutritious snacks so that they won't seek out vending machines or their classmates to satisfy the munchies. You can supercharge your efforts with a little creativity (like a dash of cinnamon in a bag of unbuttered popcorn) that make your snacks fun and more enticing than other school ground options.
It's not always easy to keep your kids from unhealthy snack choices. But with a little commitment, interaction and ingenuity, you can help steer them toward snacks that are tooth-friendly.
If you would like more information on boosting your child's dental health, please contact us or schedule an appointment for a consultation. You can also learn more about this topic by reading the Dear Doctor magazine article "Snacking at School: How to Protect Your Child's Teeth and Promote Good Nutrition."
By NJ Team Dental Center
January 07, 2018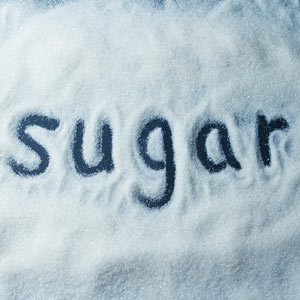 It's easy to go overboard with sweets during the holiday season. But overconsumption of sugar, month after month, can jeopardize your oral and general health. A sugary diet nourishes the bacteria that cause tooth decay. Eating too much sugar over time also promotes general health problems such as diabetes and excessive weight gain.
The beginning of a new year is a great time to bring your diet back into balance. But if you really want to cut down on sugar, you'll need to be aware that there is a lot of sugar hiding in foods you where wouldn't normally suspect it. Here are some examples:
Ketchup. Do you like ketchup on your burger and fries? For every tablespoon of ketchup you use, you'll be adding about 4 grams of sugar (one teaspoon). That can add up pretty quickly into a significant amount of sugar!
Canned tomato soup. Read the label of your favorite brand and you might see as much as 12 grams of sugar per half-cup serving. That equals three teaspoons of sugar in every half cup of soup—even more in a full bowl!
Granola. You may think of granola as a healthy choice for breakfast. Yet you're likely to see sugar listed as the second ingredient on many favorite brands—right after oats. This typically adds up to 15 grams of sugar per serving. That's almost 4 teaspoons, in a food promoted as healthful!
Yogurt. Here, the amount of sugar varies widely among brands and flavors. One container of vanilla yogurt might contain 3 or more teaspoons of added sugar. Put that on a breakfast serving of granola, and your first meal of the day has already topped the 6-teaspoon daily limit recommended by the World Health Organization.
So, to prevent sugar from sneaking up on you, it's important to read those labels! And if you have any questions about sugar and oral health, please contact us or schedule an appointment for a consultation. You can learn more by reading the Dear Doctor magazine articles "The Bitter Truth About Sugar" and "Nutrition and Oral Health."
By NJ Team Dental Center
November 30, 2017
We don't often think about it, but eating is a multi-staged process. It starts, of course, with food that's hopefully high in nutritional value. But you also need coordinated jaw action to chew and shred your food that when combined with the enzymes in saliva can then be effectively digested in the stomach.
But what if you're unable to chew some foods because you suffer from chronic jaw pain and dysfunction? This is the situation for millions of people who suffer from problems associated with the jaw joints—temporomandibular joint disorders (TMD). It's not just the chronic pain and discomfort TMD can cause that's a real issue—it may also be preventing you from eating foods that are healthy for you.
Because TMD can make it difficult to open your jaws wide or causes pain when you bite down, you might especially have trouble with certain fruits and vegetables as well as many meats. Many people opt to skip otherwise healthy foods because they're too difficult to eat. That, however, could lead to lack of proper nutrition in the long run.
But with a few techniques and modifications, you can still include many of these foods in your diet even when TMD discomfort flares up. For one, be sure to cut all your food portions (including toast) into small, bite-sized pieces. These should be small enough to limit the amount of jaw opening required to comfortably place the bite in your mouth and chew. When preparing your food, be sure to peel fruits and vegetables that have skin, which is often hard to chew.
You should also try cooking crisper fruits and vegetables to a soft, moist texture. Choose meat cuts, poultry or seafood that can be cooked to a tender, moist consistency—you can also use gravies and sauces to further moisten them.
And don't forget to chew slowly. Not only does slower eating aid in digestion, it will help you avoid overworking your jaw joints.
With a few adjustments you can have a normal, nutritious diet and minimize the discomfort of your TMD symptoms. Continual healthy eating is a must for overall health and quality of life.
If you would like more information on reducing the impact of TMD on your life and health, please contact us or schedule an appointment for a consultation. You can also learn more about this topic by reading the Dear Doctor magazine article "What to Eat When TMJ Pain Flares Up."