My Blog
Posts for tag: gum disease
By NJ Dental Team Center
March 27, 2020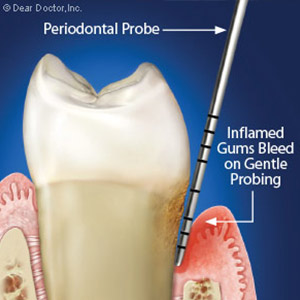 How do you know if you have periodontal (gum) disease? Sometimes your gums will tell you—when they're red, swollen or bleed easily.
But your gums can also look and feel healthy while a gum infection still brews below the gum line. In this case, a regular dental visit could make the difference. Even without overt signs of infection, we may be able to detect gum disease with a slender metal instrument called a periodontal probe.
Gum disease is a bacterial infection that most of the time arises from dental plaque. This thin film of bacteria and food particles accumulates on tooth surfaces, especially because of poor or non-existent oral hygiene. A continuing infection can weaken gum tissues and cause them to pull away or detach from the teeth.
Normally, there's a slight gap between the gums and teeth. But as the infected gums pull away, the gaps grow larger and deeper, forming what are known as periodontal pockets. They become filled with infection that soon spreads to the root and bone and increases the risk of tooth loss.
These pockets, though, could be the means for detecting a gum infection with the help of the periodontal probe. During a dental exam we gently insert the probe, which has millimeter depth markings etched on it, between a tooth and its adjacent gums. While a depth of 1 to 3 mm is normal, a probe measurement of 4 to 5 mm could be a sign of an early stage infection. A reading of 7 to 10 mm, on the other hand, may indicate more advanced disease.
Along with other factors, periodontal probing can be quite useful identifying both the presence and extent of a gum infection and then how to treat it. The goal of any treatment is to remove plaque and tartar (calculus) deposits that sustain the infection. But probing, along with other diagnostic methods like x-rays, could point to deeper infection below the gum line that require more extensive methods, including surgery, sometimes to access and remove the disease.
Achieving the best treatment outcome with gum disease often depends on finding the infection early. Periodontal probing helps to make that discovery more likely.
If you would like more information on diagnosing and treating gum disease, please contact us or schedule an appointment for a consultation.
By NJ Dental Team Center
February 09, 2019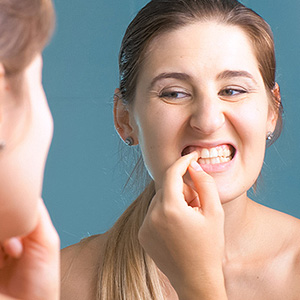 If you're over 30 your chances for developing periodontal (gum) disease are better than half. And it's not a minor matter—untreated gum disease can lead not only to tooth loss, but to an increased risk of cardiovascular disease and other inflammatory conditions.
Fortunately, we have effective ways to treat gum disease, even in advanced stages. But the best approach by far in avoiding a devastating outcome for your teeth is to prevent gum disease from developing in the first place.
It helps first to know how gum disease begins. The most common cause is dental plaque, a thin biofilm of food particles on tooth surfaces that harbors the bacteria that triggers the disease. If you keep your teeth clean of built-up plaque and tartar (calcified plaque) with daily brushing and flossing and regular dental cleanings, you'll minimize the growth of disease-causing bacteria.
If you don't practice effective oral hygiene, however, within a few days you could develop an initial infection called gingivitis. This form affects the outermost layers of the gums and triggers a defensive response from the body known as inflammation. Ordinarily, inflammation helps protect surrounding tissues from infection spread, but it can damage your gums if it becomes chronic. Your weakened gums may begin to detach from the teeth, forming voids filled with inflammation known as periodontal pockets. Eventually, the infection can spread to the supporting bone and lead to tooth loss.
In addition to a dedicated oral hygiene and dental care program, you should also be on the lookout for early signs of gingivitis. Infected gums can become red, swollen and tender to the touch. You may notice they bleed easily while brushing and flossing, or a foul taste or breath that won't go away even after brushing. And if some of your teeth feel loose or don't seem to bite together as they used to, this is a sign of advanced gum disease that deserves your dentist's immediate attention.
Practicing preventive hygiene is the best way to stop gum disease before it starts. But if gum disease does happen, catching it early can be a game-changer, both for your teeth and your smile.
If you would like more information on preventing and treating gum disease, please contact us or schedule an appointment for a consultation. You can also learn more about this topic by reading the Dear Doctor magazine article "How Gum Disease Gets Started."
By NJ Team Dental Center
June 25, 2017
There are a variety of methods for treating periodontal (gum) disease depending on its severity — from routine office cleanings to periodontal surgery. But the goal behind all of them remains the same: remove bacterial plaque and calculus (tartar), the root cause for gum disease, from all tooth and gum surfaces.
The traditional method for doing this is called scaling in which we use special hand instruments (scalers) to mechanically remove plaque and calculus. Scaling and a similar procedure called root planing (the root surfaces are "planed" smooth of plaque to aid tissue reattachment) require quite a bit of skill and experience. They're also time-consuming: full treatment can take several sessions, depending on how extensive the infection has spread.
In recent years, we've also seen a new method emerge for removing plaque: lasers. Commonly used in other aspects of healthcare, lasers utilize a focused beam of light to destroy and remove diseased or unhealthy tissue while, according to studies and firsthand accounts, minimizing healthy tissue destruction to a better degree than traditional techniques. Procedure and healing times are likewise reduced.
Because of these beneficial characteristics, we are seeing their use in gum disease treatment, especially for removing diseased and inflamed tissues below the gum line and decreasing sub-gingival ("below the gums") bacteria.
Dentists who have used lasers in this way do report less tissue damage, bleeding and post-treatment discomfort than traditional treatments. But because research is just beginning, there's not enough evidence to say laser treatment is preferably better than conventional treatment for gum disease.
At this point, lasers can be an effective addition to conventional gum disease treatment for certain people, especially those in the early stages of the disease. As we continue to study this technology, though, the day may come when lasers are the preferred way to stop gum disease from ruining your dental health.
If you would like more information on treating gum disease, please contact us or schedule an appointment for a consultation. You can also learn more about this topic by reading the Dear Doctor magazine article "Lasers Versus Traditional Cleanings for Treating Gum Disease."