My Blog
Posts for: October, 2017
By NJ Team Dental Center
October 16, 2017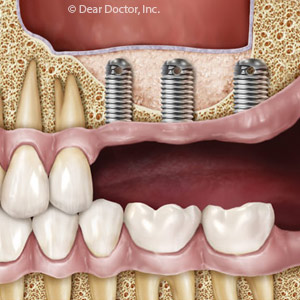 For a predictable outcome, a dental implant should be placed as soon as the bone and gum tissues following a tooth extraction have healed. But what happens if the tooth has been missing for months or years? You might then run the risk of not having enough bone to properly place an implant.
This can happen because of a disruption in the growth cycle of living bone tissue. As older bone cells dissolve (resorption), new bone develops to take its place. This is a dynamic process, as the amount and exact location of the new growth is in response to changes in the mouth, particularly from forces generated by the teeth as we chew. If, however, this stimulation transmitted to the bone no longer occurs because the tooth is missing, the bone will tend to dissolve over time.
In fact, within the first year after a tooth loss the associated bone can lose as much as a quarter of its normal width. This is why we typically place bone grafting material in an empty socket at the same time as we extract the tooth. This encourages bone growth during the healing period in anticipation of installing a dental implant or a fixed bridge. If, however, the bone has diminished to less than required for a dental implant, we must then use techniques to encourage new bone growth to support a future implant.
One such technique for restoring bone in the back of the upper jaw is to surgically access the area through the maxillary sinus (a membrane-lined air space within the bone structure of the face) positioned just over the jawbone to place grafting material. During surgery performed usually with local anesthesia, the surgeon accesses the sinus cavity, lifts the tissue membrane up from the sinus floor and applies the grafting material on top of the bone. Eventually, the new bone growth will replace the grafting material.
If successful, the new bone growth will be sufficient to support an implant. Thanks to this renewed growth, you'll soon be able to enjoy better function and a transformed smile provided by your new implant.
If you would like more information on forming new bone for implants through sinus surgery, please contact us or schedule an appointment for a consultation. You can also learn more about this topic by reading the Dear Doctor magazine article "Sinus Surgery."
By NJ Team Dental Center
October 08, 2017
The American Dental Hygiene Association has designated October as National Dental Hygiene Month. Good dental hygiene is the best weapon against your mouth's number one enemy: dental plaque.
Plaque, a sticky biofilm that forms on your teeth, is an accumulation of bacteria, other microorganisms, food debris, and other unpleasant components. It can make your teeth feel fuzzy or slimy. And worse, the bacteria in plaque can lead to tooth decay and gum disease.
The best way to keep plaque at bay is by brushing your teeth twice a day and flossing once a day. But even though you can remove much of the plaque in your mouth with a toothbrush and dental floss, there are nooks and crannies that are hard to access with these basic oral hygiene tools.
Staying on top of dental plaque is an ongoing challenge. Immediately after teeth are cleaned, plaque starts to form again. And the longer plaque stays on teeth, the thicker it grows. Minerals in saliva become incorporated into the biofilm. As plaque takes on more minerals, it becomes calcified. This is when it hardens into calculus, or tartar. At this stage, tooth-brushing and flossing cannot disrupt the hardened layer of buildup, sometimes visible as yellow or brown deposits around the gum line.
This is why it's important to schedule regular professional dental cleanings. At the dental office, we have special tools to remove tartar and get at those hard-to-reach places that your toothbrush and floss may have missed. If you have questions about dental hygiene, plaque control or another oral health issue, we are happy to talk with you. We are your partners in fighting plaque for a bright, healthy smile!
Read more about the topic in the Dear Doctor magazine article "Plaque Disclosing Agents."