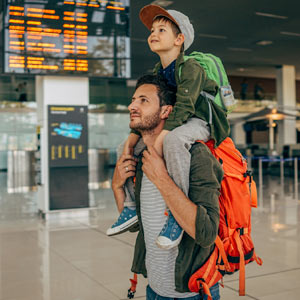 With summer vacation season in full swing, you and your family might be planning a trip away from home, maybe even far from home. If you're vacationing out of the country, you'll want to be as prepared as possible—including protecting your dental health.
Dental problems are difficult enough in the familiar surroundings of home, but even more so in a foreign locale. However, with a little preparation and planning, you can keep your exotic dream vacation from becoming a dental nightmare.
Here's what you can do to avoid or minimize an unpleasant situation with your teeth and gums while on vacation abroad.
Take care of any dental problems before you leave. If you know or suspect you already have a problem with your teeth or gums, it's better to have it corrected if at all possible before your trip. So, make an appointment to see your dentist if you notice things like a toothache or tooth sensitivity, unusual spotting on your teeth, or swollen or bleeding gums.
You should also have sinus problems like pain or congestion checked too, since these may actually involve your teeth and gums. If at all possible, undergo recommended procedures like gum disease treatment or root canals pre-trip—just be sure you allow adequate time for recuperation before your departure date.
Know who to contact in a dental emergency. Even with the best of planning, you should also prepare for the possibility of a dental injury or emergency while you're on your vacation. So be sure you pack along with your other travel documents the names and contact information of individuals or organizations near your vacation destination that might be of assistance in a dental emergency. These might include hotel concierges, military personnel or other English speakers living in the area, or the nearest embassy or consulate.
In addition, the International Association for Medical Assistance to Travelers and the Organization for Safety, Asepsis and Prevention are online resources that can help you with your trip planning and give you medical and dental information specific to your destination.
A vacation trip to a foreign land can be a unique and fulfilling experience. Just be sure a dental problem or emergency doesn't spoil the moment—be prepared. If you need to take care of any dental issues before you go on vacation, please contact us or schedule a consultation. To learn more, read the Dear Doctor magazine articles "Dental & Medical Tourism" and "10 Tips for Daily Oral Care at Home."